Welcome to Kuluta Rhodesian Ridgebacks
Marsa Hatfield & Eric Belt
We recently relocated from SE Connecticut to the foot hills SW of Denver Colorado. A net gain in altitude of about 8,000 ft.
This site is under revision
This page updated Aug 2020
We have been involved with Ridgebacks for nearly 20 years and currently own 9. Our first was Jonnie Ann. She was not a show dog but was such a delight we wanted another. So along came Tima, our first show dog. She performed spectacularly, winning Best of Opposite at our first national breed specialty show in 2003. Chanzi was Tima's sister. She was originally not deemed a show dog but grew into a nice looking bitch so we put her in the show ring. Not the enthusiastic show dog her sister was, she nonetheless finished her championship. Tima and Chanzi lived 12+ years and Jonnie nearly 14. From there things got a little out of hand. At one time we had 14 dogs in the house, not counting the occasional litter of puppies.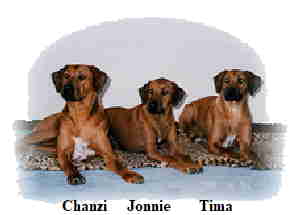 Our Ridgebacks are, first and foremost, pets and our beloved companions. Although we have dabbled in lure coursing and agility, our primary interest is the conformation dog show. We have finished over 2 dozen "fur babies" to their championships.
Loosely translated from the African language Kikongo, "kuluta" means "to surpass". It is our hope that our dogs reflect the meaning of "kuluta" in their temperament, conformation and performance.
We are members of the Rhodesian Ridgeback Club of the United States (RRCUS.org) and the Colorado Rhodesian Ridgeback Club (coloradorhodesianridgebackclub.org).
We invite you to browse our pages to learn more about us and our dogs.